Tips On How To Relax When Caring For Seniors
Posted by Brian Shevel on 7 April 2017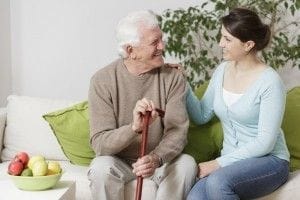 Taking care of your elderly family member can be a full-time job that can be both mentally and physically taxing. Making sure they eat right, get their exercise in, make it to all their doctor's appointments, and take their medications everyday are just a few of the basic responsibilities you probably have to take care of on a daily basis, but there's always more. It's easy to become overwhelmed, and it's important to remember that coping with your stress is an integral part of providing quality care for your senior. If you've been dealing with the stress of being a caregiver lately, check out this list of tips for caregivers that we've put together to help you, and others like you, cope with the demanding job.
Take Time for Yourself
Chances are that you spend a good part of your week caring for you senior, so don't feel bad about taking time for yourself. Even if you don't feel like you need it, try to take a little "me" time each week to collect your thoughts and just spend some quality time alone. Being a caregiver is stressful, and you'll need time to unwind - whether you realize it or not.
Maintain Your Own Health
One of the most important things to remember is to take care of yourself. You've probably heard it a hundred times before, but that's because it's true: you can't take care of others until you care for yourself. This means taking a break when you feel like you need it and allowing others to step in and help you.
Accept Their Behaviour
Some seniors are stuck in their ways and won't change their behaviour patterns no matter how hard you try. Some fights aren't worth the stress - especially those you know you won't win. Unless it's detrimental to their safety or the safety of others, try to accept their behaviour and come to terms with it. The constant battle to try and change it will only serve to stress both of you out, and no one will win.
Give Them Freedom
Most seniors have a hard time coming to terms with the fact that they need a caregiver. Make this process easier for them, and give them as much freedom as you can. Acting as a companion rather than a caregiver can help create the illusion that you're not caring for them but rather keeping them company. This will allow them to maintain their sense of freedom.
If you often find yourself Googling "tips on how to stay sane," it may be time to embrace some home-care services. Fortunately, Home Care Assistance - Toronto/York Region has the solution for you. We have a team of passionate and dedicate caregivers who would be more than happy to help relieve the stress of taking care of your senior family member. Whether you're looking for hourly care so you can take a little break a few days a week or full-time live-in care, we can help you. Contact us today for more information about our services and to discuss your home healthcare needs.

Author:
Brian Shevel
About: I am originally from South Africa from a small city called Bloemfontein. After I completed my education, I went to work with my late-father who had a wholesale business selling clothes and shoes to retail stores around the country. I was in the business till I left for Canada in 1993. In Canada, I have run several businesses in a variety of industries. Although I experienced success, I missed helping people. I learned from my parents that helping seniors was important to their well-being and of great value to the community. Volunteer work remains a priority in my life. I am a past president of Bnai Brith and serve on many other committees.
Connect via:
LinkedIn