Tips To Help Seniors Beat The Holiday Blue
Posted by Brian Shevel on 18 October 2016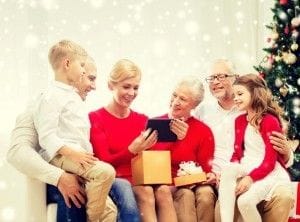 The holiday season will be here before you know it. Family get-togethers, office parties, and an overwhelming holiday spirit are all on the forefront in the coming few weeks - and rightfully so. The holiday season is a time for celebrating family and togetherness, and for that very reason, we must not forget the seniors in our lives.
The holiday blues are a real thing for many seniors. It's important that as their family, you make yourself aware of the causes and the symptoms. The holidays are supposed to be a welcoming time for everyone, so let's keep it that way.
Causes of Senior Blues during the Holidays
There are a few triggers that cause seniors to catch the holiday blues. Some of them stem from just thinking of times they were younger. Naturally, there are some things seniors can't do anymore, and reminiscing on those times can cause them to feel down.
If seniors are living on their own, the holidays are a time that reinforces feelings of loneliness. They miss their family and the holidays are a time when those feelings can become exaggerated. It's also possible that a recent death may be affecting their mood.
Symptoms of Senior Blues
If you're a family member who is close to a senior during the holidays, it's a good idea to pay attention to their behaviour. The holiday blues can cause seniors to act moody and generally more sad than normal. Also, look out for signs like loss of appetite or seniors feelings extra tired. Paying attention to their sleeping patterns should provide some clues as to their mood.
Tips to Help Seniors Beat the Holiday Blues
We know the causes and recognize the symptoms, but what can we do to help seniors beat the holiday blues? Here are a few tips for seniors that you can encourage them to try.
Holiday Treats
What better way to warm up a senior's heart than through their stomach? Cooking is something you can do together with more than one family member. Get seniors involved and even use some of their recipes. The goal is togetherness and a friendly atmosphere.
Avoid Embarrassing Moments
You know the little idiosyncrasies of your senior loved one. Maybe they don't see or hear that well or they have trouble remembering things. Don't cause them to feel odd about these flaws by saying something like, "Why can't you hear me?" or, "Is the TV screen too far?"
Get Seniors Involved
Just because seniors live alone throughout the year doesn't mean you can't get them involved over the holidays. Make the extra effort to reach out or invite them over to your place. Plan activities together, cook together, plan Christmas together. Just keeping them involved is powerful and will help fight those holiday blues.
Exercise Programs for Seniors
Exercising is something that seniors should be doing year round regardless of the season. Over the holidays, however, it's a great way to keep their mind and body active and prevent them from falling into a funk. It would be a great idea if you joined them for a walk or jog also.
Monitor Medication and Alcohol
One staple of the holidays in many households is drinking alcohol. Try to remember that it is likely your senior loved ones are on some kind of medication. Make sure both you and them are aware of the amount of alcohol they should be consuming, if any at all.
Nothing beats the holidays. It's the most festive time of year. So unless you are planning to go away on a long vacation, take a moment and involve seniors in the festivities. Your effort will go a long way in making them feel like they still are an active part of the family dynamic.
Home Care Assistance Toronto/York Region offer seniors the opportunity to receive care in their homes. We hope everyone enjoys the holiday season. For more information,
contact us
at
905-597-5825

Author:
Brian Shevel
About: I am originally from South Africa from a small city called Bloemfontein. After I completed my education, I went to work with my late-father who had a wholesale business selling clothes and shoes to retail stores around the country. I was in the business till I left for Canada in 1993. In Canada, I have run several businesses in a variety of industries. Although I experienced success, I missed helping people. I learned from my parents that helping seniors was important to their well-being and of great value to the community. Volunteer work remains a priority in my life. I am a past president of Bnai Brith and serve on many other committees.
Connect via:
LinkedIn