Toilet Tips for Bathroom Safety
Posted on 3 June 2019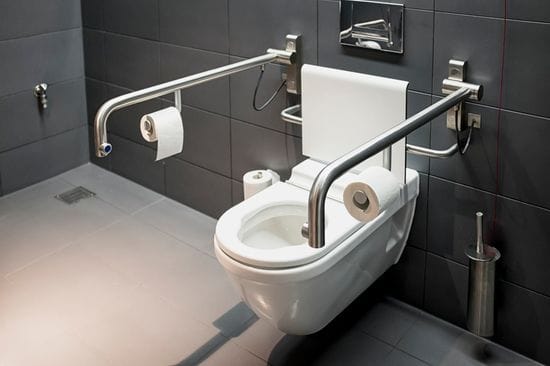 Aging, for many, comes with a loss of strength and balance, making seemingly simple tasks like sitting down and getting up from the toilet a difficult endeavor. Along with the embarrassment, it raises the risks of potential falls and injuries.
There are, however, many assistive technologies available to help support seniors with safe toilet transfers.
Raised Toilet Seat
People who lack arm and leg strength and balance often struggle with safely lowering and raising themselves from a toilet seat. You can reduce the amount of squatting and the distance required to sit on the toilet by installing a raised toilet seat, which raises toilet seat height by 3-4 inches. Brackets or locking clamps that stabilize the seat on the toilet rim make these seats easy to install.
Toilet Grab Bars
Whether wall- or toilet-attached, grab bars provide seniors the support they need to safely sit down and get up from the toilet. For those who have an especially hard time standing up, there are grab bars that can support a person's weight while also acting as a toilet paper holder.
Related: How In-Home Care Services Help Seniors Stay in Their Homes
Toilet Safety Rails
Toilet safety rails are essentially arm rests for your toilet, except that they are built specifically to hold an individual's weight while they use them for support to sit down and get up from the toilet. The safety rails attach directly toilet seat, with one rail on either side.
Commodes
Commodes come in a variety of models, depending on what solution is needed. They're excellent solutions for individuals who struggle to get to the bathroom in a timely manner. They come with or without wheels and can fit over an existing toilet or replace it completely. Anyone needing a grab bar and a higher seat should consider an over-toilet adjustable commode. Often known as an "all-in-one commode," it functions as a raised toilet seat, toilet safety rail, and a freestanding commode to use outside the bathroom. Commodes are especially beneficially for those who can no longer safely walk to the bathroom at night.
While bathrooms are a hazard zone for people of all ages, seniors are considerably more vulnerable to falls and injuries. Use any of above options to make the bathroom a safer place.
---
Home Care Assistance provides in-home care services to families in Vaughan, Markham, Richmond Hill, Newmarket, Aurora, North York, Stoufville, Woodbridge, Thornhill, and the GTA. Contact us for more information about our in-home care services and packages.