Top 3 Tips for Alzheimer's Care
Posted by Myriam Hamidi on 1 February 2019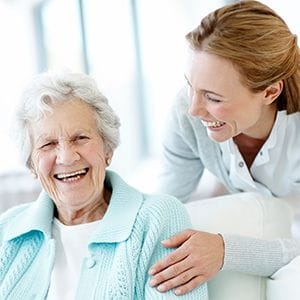 Providing care to a person with Alzheimer's can certainly be challenging but more importantly, rewarding. It is important to remember that your client and their family is counting on you in making sure that you are providing the highest quality of care possible. Although some days may get tough, it is crucial to make sure that you are being mindful and patient. Caregivers must always remind themselves that on difficult days, their client is not choosing to be confused, to repeat themselves, or to ask a lot of questions. Rather, it is important to try to see the world from your client's perspective and to understand that their confusion and difficult behaviour is beyond their control.
Still, it does not hurt to know some helpful tips that will serve useful to both yourself and your client. First and foremost, know who your client is. Take a moment each day to learn something about them - If you are having a difficult time obtaining this information at the beginning, you could ask their friends and family members to help you out. Try to understand and familiarize yourself with what they enjoy to do, what their hobbies are, what kind of music they like, what movie genre is their favourite, and the list may go on. It is absolutely crucial to know who you are providing care for as that is the best way to ensure that you are able to respect their values, accommodate to their needs, and establish good rapport and a trusting relationship with them.
Additionally, you may not always have colourful, fruitful, cheery days. Instead, some days may be challenging and it can completely tire you out. However, know to be patient. This means several things. Being patient can mean your ability to accept challenges and difficulties without becoming frustrated. Additionally, it also means to speak slowly and coherently in order to allow your client some time to process your words and to respond to your sentences or questions. You need to be mindful that you are not providing care to someone who may see the world exactly in the same way that you do. Rather, they are living in a different reality and you ought to respect that and to make them feel as comfortable as possible.
Alzheimer's is not challenging to only caregivers, but it is challenging for clients as well. People with Alzheimer's may often be confused and frustrated by the changes as it may disrupt their daily life. It is crucial to be compassionate when providing care so that you can reassure your client that they are loved and supported. It will help them understand that although they are experiencing changes, that they are not alone during this difficult time. Rather, they know they have someone who will be there for them each step along the way. Caregivers can demonstrate their compassion either by a gentle touch, a word of praise, or a calm tone. The most important thing about demonstrating compassion is to show love and respect for your client.