What Is Palliative Care For Cancer Patients?
Posted by Brian Shevel on 17 August 2017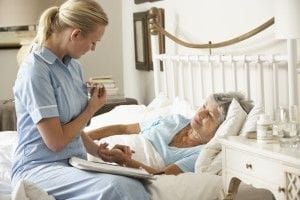 Palliative care is often seen as a last resort, only to be used when there are no other options leftbut this isn't the case at all. Many people mistake palliative care for hospice care, but the two are vastly different treatment options. Palliative care is specialized treatment that can begin at any stage of illness, and simply focuses on providing the relief of symptoms and improving the quality of life for patients, as well as their families. Hospice care, on the other hand, is end-of-life care that's employed when it's clear that the patient will succumb to their illness soon. Palliative care for seniors can sometimes be the best option for cancer patients, depending on their vision for treatment. For more information to help you determine whether palliative care is the right choice, keep on reading.
How Palliative Care Can Improve Quality of Life
Cancer treatments are typically pretty rigorous, and depending on your senior loved one's health at the time of their diagnosis, it might be better for them to embark on a palliative care path rather than opt for radiation or chemotherapy. Many cancer treatments and drugs can deteriorate a person's health in the process of curing them, and it's up to you and your loved one to decide whether their body can handle it. Palliative care doesn't necessarily work towards curing cancer patients, but rather making them comfortable and enhancing their quality of life as it takes it course. Some may see this as counteractive, but it's sometimes the better option since aggressive treatments could overtake older patients even faster.
Essential Aspects of Palliative Care:
Focuses on Emotional and Physical Needs
This is an emotional time for your family and the patient, and palliative care aims to support both parties. Grief counsellors are available to help family members who are facing the loss of a loved one. Practitioners will also tend to the physical needs of patients to make them as comfortable as possible
Makes Pain Relief a Priority
The primary focus of palliative care is to improve the quality of life for patients, and a big part of that is pain relief. Cancer patients who opt for this route will receive pain relief to make their life return to a degree of normality. This is one of the main areas where palliative care differs from traditional treatments, as it makes comfort a prioritynot fighting the disease.
If you've been struggling with taking care of your senior loved one and establishing a palliative care treatment plan, you may want to give
Home Care Assistance - Toronto/York Region
a call. Our trained caregivers have experience dealing with seniors that suffer from a variety of illnesses, and will be able to support you and your loved ones. Whether your senior loved one just needs some company a few hours a week, or full-time live-in care, we have the caregiving solution for you. Make the best decision for you, your senior loved one, and their health, and
contact us today
.

Author:
Brian Shevel
About: I was born in South Africa in a city called Bloemfontein. Went to Christian Brothers College (CBC) finished High school there. I went into business with my father we had a wholesale selling cloths and shoes to retail stores around the country. I was in the business till I left for Canada in 1993. Was a past president of Bnai Brith and served on many other committees. In Canada worked in the computer software industry selling construction software. I was always involved helping the elderly as my mother was very involved and I went along with her. Also looked after my father as he aged. Helped as a volunteer with seniors.
Connect via: