What Is The Difference Between Palliative Care And Hospice Care?
Posted by Brian Shevel on 14 October 2016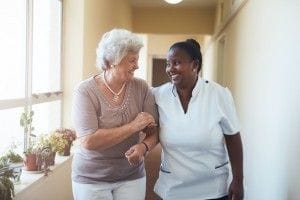 It can be hard to differentiate between palliative care vs. hospice care. Both deal with managing the quality of life of those who are ill, but there are some clear distinctions that should be made. In this article, we will give clear palliative care vs. hospice care definitions and describe the benefits of each.
What Is Palliative Care?
Palliative care involves improving the quality of someone's life while they cope with an illness or disease. An example would be a patient who is suffering from cancer. While they are receiving chemo and other treatments to fight the disease, palliative care addresses the discomforts associated with those treatments. So, nausea, migraines, and other symptoms would be managed through palliative care. And although the reference most often associated with palliative care deals with serious illnesses, the reality is that simply taking a painkiller to deal with a dislocated hip is also a form of palliative care.
What Is Hospice Care?
Hospice care is similar but still distinctly different from palliative care. With hospice care, the patient is terminally ill and is only expected to live for up to six months. All curative treatments are stopped before hospice care is given, but like palliative care, hospice care looks to improve the quality of life of the patient as they pass.
Comparing Palliative Care and Hospice Care
When comparing palliative care benefits and hospice care benefits, you'll find that they really are quite similar. The main difference is that with hospice care, you are removing the curative treatments and focusing solely on the patient's quality of life. Something that is more prevalent through hospice care but is also a part of palliative care is the focus on the spiritual and emotional pain of the patient. Physical pain is just one aspect of an illness, and it along with the emotional pain must be tackled when working to improve the quality of life during illness.
In many instances, palliative care often helps patients' respond to the curative treatments they are receiving. It makes them better able to interact with their families and friends while dealing with their illnesses. To make the leap from palliative care to hospice care, certain conditions have to be met: the patient should show that they are unable to care for themselves, the current curative treatments should prove to not be working, and two physicians must declare that any further treatments would be equally unsuccessful.
Home Care Assistance - Toronto/York Region is able to offer hospice and palliative care for the elderly. Our hospice caregivers are trained for compassionate hospice senior care and palliative care for those who are suffering from disease or illness. If you are searching for palliative home care in Toronto, then give us a call today at 905-597-5825. Our lines are always open.

Author:
Brian Shevel
About: I am originally from South Africa from a small city called Bloemfontein. After I completed my education, I went to work with my late-father who had a wholesale business selling clothes and shoes to retail stores around the country. I was in the business till I left for Canada in 1993. In Canada, I have run several businesses in a variety of industries. Although I experienced success, I missed helping people. I learned from my parents that helping seniors was important to their well-being and of great value to the community. Volunteer work remains a priority in my life. I am a past president of Bnai Brith and serve on many other committees.
Connect via:
LinkedIn