Why Seniors Prefer Familiar Environments
Posted by Brian Shevel on 24 September 2015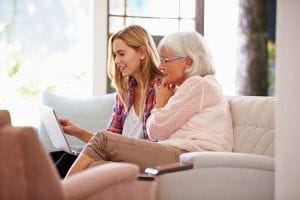 We've all been blessed. Advancements in technology and countless hours of medical research have led to improved medical treatments and medications, enabling us to live longer lives. And while we should certainly be thankful for this, it's just as important to enjoy these extra years in comfort.
A big part of feeling good about those extra years is having the opportunity to live out that time at home. An overwhelming majority of seniors have made it very clear that they prefer to spend their post retirement days within familiar surroundings, and that means in their homes. And though other suitable options are available, the familiarity allows seniors to feel more independent, helps with recovery, and provides an overall feeling of comfort that can't be reciprocated anywhere else.
Recovering From Surgery or Illness at Home
One of the main reasons families may feel forced into having their senior loved ones reside in an alternate facility is because their loved one has undergone some type of major surgery or is experiencing illness that requires care they are not prepared to offer. But statistics have shown that seniors recover more quickly from their homes. Leaving them to recover at a hospital or long term care facility can cause undue stress and actually impede recovery time.
Now of course there are some instances where recovering at home is not immediately possible because of the nature of the surgery or illness. But some families are still surprised by the depth of services offered by home care providers. It will certainly be worth the inquiry to your local Home Care Assistance branch to figure out just what kind of care is offered.
Comfort and Personal Care
Nothing beats sleeping and waking up in the same bed you've lived in for years. That level of comfort and familiarity can't be applied anywhere else. Knowing your neighbours, having friends and family casually stop by, having the same phone number or being able to walk down your street to stores you've been frequenting for as long as you've lived at that address are imperative. Those are all details that on their own may seem insignificant, but together make the world of difference to seniors facing the alternative.
Seniors appreciate familiarity as well as the personal care they receive from caregivers when they do remain at home. Having someone dedicated to your needs, who knows your routines and can cater themselves to your loved ones, rather than the other way around, makes a difference in how seniors are able to enjoy their day to day lives. They understand that they need help in some areas, but being at home and receiving personal care allows them to maintain a level of independence not possible at other long term care facilities.
Home Care Assistance - Toronto/York Region recognizes all of these benefits and offers
home care services
that allow seniors to maintain their independence and live a higher quality of life in familiar surroundings close to the people and places they love.
Contact us today
for more information on our home care services.

Author:
Brian Shevel
About: I am originally from South Africa from a small city called Bloemfontein. After I completed my education, I went to work with my late-father who had a wholesale business selling clothes and shoes to retail stores around the country. I was in the business till I left for Canada in 1993. In Canada, I have run several businesses in a variety of industries. Although I experienced success, I missed helping people. I learned from my parents that helping seniors was important to their well-being and of great value to the community. Volunteer work remains a priority in my life. I am a past president of Bnai Brith and serve on many other committees.
Connect via:
LinkedIn