Why Seniors Prefer Growing Old at Home
Posted by Brian Shevel on 3 June 2015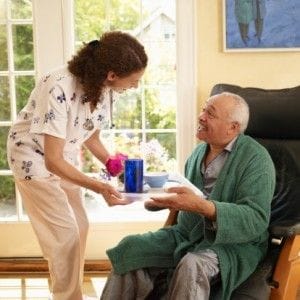 According to Elections Canada, by the year 2041, seniors are projected to encompass approximately 25% of the Canadian population - with seniors aged 85 and over expected to triple to nearly six percent of the population! As Canada prepares to deal with the growing number of seniors over the next quarter century, we must not ignore what today's seniors are telling us about their preferences for receiving care. If you look at almost any study, seniors overwhelmingly prefer to be cared for at their own homes.
This shouldn't be surprising. Seniors may have their own more personal reasons for wanting to be cared for at home, but several factors can explain why the preferences for home care assistance in Toronto and across North America are so high.
Three Key Factors That Support Elderly Home Care Services
1. Familiarity: Seniors, like anyone else, feel most comfortable inside their own homes. This familiarity extends beyond just knowing where everything is. We're talking about that intrinsic comfort in knowing they are somewhere they've spent much of their lives, somewhere other people recognize as their home and a place they can take pride in calling their own. The safety and security associated with being in their home is something that cannot be replaced, or transferred, to another facility.
2.
Independence:
One concern seniors often share is becoming a burden on anyone else, and staying at home is one way they are allowed to feel like they are still in control and able to manage certain aspects of their lives without having them be dictated. In addition to familiarity, being able to decide when they do things and what they do (to the extent that is physically possible) plays a significant role in how successfully they are able to function.
3. The Psychological Factor: When seniors leave their homes to either recover or receive care from another facility, that sends the message that they are not able to care for themselves. Regardless of their health situations, seniors want a certain feeling of control and knowledge that they can get through whatever is happening to their bodies. Being at home provides a psychological edge in dealing with their health conditions and that edge can lead to a more positive approach when managing their conditions.
Other Factors to Consider
Of course, seniors are faced with other factors that need consideration. The severity of your loved one's ailment and the type of care they need are determining factors in whether or not they should choose home care assistance. Cost is also a consideration, but receiving care at home in most instances is more affordable than taking up residence in an auxiliary senior care facility.
The decision also depends on the availability of a home care assistance service and the home care provider's ability to meet the expectations and needs of the senior. Home Care Assistance - Toronto/York Region has extremely skilled and qualified caregivers within the GTA who provide quality elderly home care services to older adults so they can enjoy happier, healthier lives. We have a rigorous acceptance standard and training program for our caregivers and provide a constant stream of educational resources once they are onboard. You can rest assured that your loved one is receiving the highest quality of care 24/7.
Contact Home Care Assistance - Toronto/York Region today for more information on our home care assistance and live-in elderly home care services.
Source:
Kembhavi, R., "Research Note Canadian Seniors: A Demographic Profile," Elections Canada web site, November 2012;
www.elections.ca/content.aspx?section=res&dir=rec/part/sen&document=index&lang=e
.

Author:
Brian Shevel
About: I am originally from South Africa from a small city called Bloemfontein. After I completed my education, I went to work with my late-father who had a wholesale business selling clothes and shoes to retail stores around the country. I was in the business till I left for Canada in 1993. In Canada, I have run several businesses in a variety of industries. Although I experienced success, I missed helping people. I learned from my parents that helping seniors was important to their well-being and of great value to the community. Volunteer work remains a priority in my life. I am a past president of Bnai Brith and serve on many other committees.
Connect via:
LinkedIn