Why You Should Involve Your Kids In Caring For Your Elderly Parents
Posted by Brian Shevel on 15 September 2016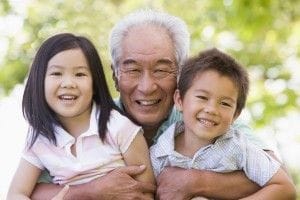 If you are currently in a situation where you are caring for your elderly parent, you know how much of a commitment that can be. You are continually trying to find ways to engage your elderly parents so they remain cognitively active and sharp, while managing the other more tangible senior care responsibilities like setting schedules for medication and grooming.
Keeping your senior parents in good spirits can be a challenge. They are not used being helped all the time, and often resent not being able to do everything on their own. One way to keep your loved ones in good spirits is to involve your own children as part of your elderly care routine.
There's some kind of magical bond that exists between a grandparent and their grandchildren. They light up when their grandchildren are in the room, and it really does have a positive impact on their overall mood and well-being. And if you're looking for ways to keep your young children involved in the caregiving process, here are a few ideas.
Reading to Each Other
Reading by itself is a powerful and healing activity. When grandparents and grandchildren read to each other, those healing powers are amplified. Grandkids can read something from school or a favourite book, but anything that sparks the imagination and opens up conversation can work just as well.
Family History Book
One way in which a grandparent's age is a luxury is through the many stories they have to share. Both grandchildren and grandparents can engage each other by somehow documenting those life experiences in a history book. The grandparent can take the lead in telling the stories and both can search for mementos to include in the book.
Internet and E-mail
Don't count your senior loved one out of being savvy to the Internet. Something as simple as e-mail is an easy way for grandparents and grandchildren to stay connected in the days they do not see each other. Maybe even setting up accounts just so they can communicate would be a good idea. That way every time a message comes through, they know who it's from.
Travel
Maybe your elderly loved one is not in any condition to globetrot, but short trips should be an option if their health permits. For Toronto residents, this can be a ferry ride to Centre Island or a slightly longer trip to the cottage. The point is for both grandparents and grandchildren to get out of the house and enjoy each other's company.
Puzzles
Puzzles are great both for kids and seniors, as it helps with cognition and creative thinking. Find puzzles that are challenging, but not impossible, so that there is a sense of accomplishment once it is completed. You could even do a large puzzle that would take days to complete so that both grandparents and grandchildren have something to look forward to.
Home Care Assistance - Toronto/York Region
has seen the benefits of having grandchildren present in seniors' lives. We are part of an organization that is crafting a legacy for the proper way to provide
home care services
to seniors. If you are thinking about home care for a senior member of your family,
contact us now
. We're here to answer any questions you may have.

Author:
Brian Shevel
About: I am originally from South Africa from a small city called Bloemfontein. After I completed my education, I went to work with my late-father who had a wholesale business selling clothes and shoes to retail stores around the country. I was in the business till I left for Canada in 1993. In Canada, I have run several businesses in a variety of industries. Although I experienced success, I missed helping people. I learned from my parents that helping seniors was important to their well-being and of great value to the community. Volunteer work remains a priority in my life. I am a past president of Bnai Brith and serve on many other committees.
Connect via:
LinkedIn