Post Stroke Care For The Elderly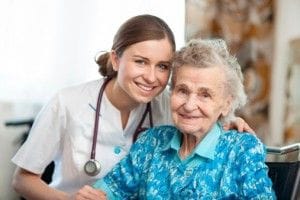 A stroke is, put simply, a "brain attack." It occurs when the brain's blood supply is cut off and brain cells begin to die. Severity depends on the part of the brain that was affected by the stroke and the degree to which it was affected, ranging from weakness in limbs to complete paralysis.
Contrary to popular belief, strokes can be prevented 80% of the time. If you call 911 as soon as a stroke occurs, you may be able to treat it. And strokes don't just affect seniors; anyone can have one.
Recovering from a stroke is something that takes a lifetime, often requiring live-in stroke care. And strokes are not a rare occurrence either; they affect up to seven million people in the U.S. alone, with a family history of stroke increasing the risk. If you're displaying the warning signs of a stroke and they go away, don't assume you're in the clear; have your loved one get you to a doctor immediately.
What Are the Best Approaches to Stroke Care?
The best approach to stroke care is to take steps toward prevention. Cutting down on cholesterol and sugar, managing blood pressure and weight, eating well, being active, and quitting smoking are all ways to reduce the risk.
Taking immediate action can be another preventative measure. Recognizing the signs of a stroke, known as the F.A.S.T. methodface drooping, arm weakness, speech problems, and time to call 911and taking action is the best way to treat a stroke immediately and limit the damage.
Depending on the severity of the stroke, your loved one may require live-in stroke care.
Planning for Stroke Recovery at Home
Post-stroke care for the elderly includes many important aspects. For instance, since a stroke is caused by restricted blood flow to the brain, the physician will prescribe anticoagulants; a caregiver can make sure that they take these medications and follow up on their blood work.
Always follow the advice of an expert, such as a neurologist, who should be visited at least once every six weeks following a stroke. Over half of stroke victims fail to do this, leading to a variety of issues.
Even if the stroke was a minor one, it may place limitations on your loved one's mobility. Live-in stroke care can help them to realize those limits and ease back into a routine, while also providing assistance around the house.
It is also important that you maintain your loved one's therapy schedule. Therapy should be started immediately following a stroke and include changes in diet, such as cutting down on sodium and making sure they eat healthy and regularly, even if they do not have an appetite.
As the leading caregiver for elderly patients who have suffered from a stroke, Home Care Assistance Toronto/York Region offers a number of resources for the family of stroke victims, including live-in stroke care. Contact us today to find out more.
Sources:
"What is stroke?" National Stroke Association web site; www.stroke.org/understand-stroke/what-stroke, last accessed March 4, 2015.
"Stroke facts," National Stroke Association web site; www.stroke.org/understand-stroke/what-stroke/stroke-facts, last accessed March 4, 2015.