Senior's Care With Parkinson's Disease In Toronto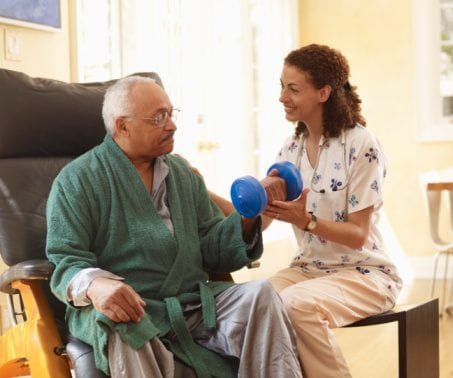 If your loved one has been diagnosed with Parkinson's disease, getting regular exercise can play a crucial role in maintaining muscle health by strengthening muscles that have become weakened by the condition. Exercise can also help a person with Parkinson's avoid depression, a common side-effect of the disease.
A home care provider can help your loved one to maintain a regular exercise routine and/or create one that can assist them in maintaining their standard of living. Exercises can include strength training, stretching, exercises that encompass a range of motions, and other forms of physical activity a Parkinson's patient's in-home caregiver can recommend based on the patient's abilities.
Hourly to 24-Hour Live-In Home Care for Seniors Living with Parkinson's Disease
Depending on the progression of the disease, some people living with Parkinson's may require 24-hour in-home care, while others may only need part-time care. A professional full-time or part-time caregiver can assist with a number of important daily tasks including running errands, maintaining a clean and hygienic living environment, preparing meals, attending social events, helping the patient keep up their personal grooming habits, and even guiding the patient through their daily exercise routine.
Understandably, each patient has a unique set of needs when it comes to managing their Parkinson's disease. Some people have more limited mobility than others and may require a great deal of assistance simply moving from one end of a room to another, while others may need assistance when it comes to lifting objects that are too heavy or awkward to hold on their own.
Having a helping hand available at all times also ensures the overall safety and security of your elderly loved one any time of the day or night. An experienced in-home caregiver can help them maintain a steady and concrete schedule to keep their minds and bodies as active as possible.
Parkinson's Home Care for Seniors
Home Care Assistance - Toronto/York Region offers a wide range of live-in care options for your elderly loved one with Parkinson's disease. These options can be customized to fit any health, living, financial, and schedule restrictions. You can choose between part-time, full-time, hourly, and live-in care. Whichever arrangement is the most convenient and suitable for your particular situation, we'll make sure to match you up with an experienced caregiver who's fully capable of meeting and exceeding your expectations. Even if you just need someone to visit your loved one for a few hours a day to make sure that they're getting all of the proper exercise they need, we can provide that service and peace of mind for you.
Our Parkinson's Home Care Programs
Our top priority is to guarantee the safety, comfort, and overall satisfaction of our clients and that includes their family members. Part of that guarantee is to provide a series of personalized services that adhere to the needs of each individual patient, all of which is outlined in detail within the contractual agreement signed by both parties at the beginning of the care. Here's a comprehensive list of the general services we provide to our charges:
Personal transportation and assistance with running errands

Routine meal preparation and adherence to proper nutritional requirements

Assistance with maintaining personal hygiene, bathing, and dressing

Reminder to take medications as scheduled

Daily companionship, lively conversation, and help maintaining an active social life

All-inclusive emotional support for the patient and their family members whenever it's needed

Maintaining scheduled physical activity and exercises to help improve mobility

Personalized and adjustable care plan that meets all of the client's evolving needs

Flexibility to choose any time of in-home care

Consistent 24-hour care whenever necessary to help prevent serious falls or injury from occurring

Assistance with completing daily tasks while still maintaining total independence

Implementing a balanced care plan that focuses on a healthy diet, regular mental and physical exercise, as well as regular social interaction with peers

Providing a safe and uplifting living environment that promotes happiness and independence
Developing an Exercise Program
A Parkinson's home care provider can create an exercise program based on the senior's abilities and needs. The program should be safe and effective and based on how severe their joint and muscle pain is and how much it affects their daily life. An exercise program can also focus on any problems they may have with mobility and balance. Daily tasks may become more difficult as the disease progresses, but with an exercise program and the assistance of a Parkinson's in-home caregiver, your loved one can maintain the standard of living they're used to.
Exercises for Senior Parkinson's Patients
Stretching is probably one of easiest exercises and can be done throughout the day as a way to keep limber. It's also an excellent precursor to some of the other exercises on this list.
This has a number of benefits, including helping with posture and coordination and making bones stronger. While strength training can be done at home with light hand weights, it's recommended to consult with a physician first.
In addition to aiding in flexibility and expanding mobility, aerobics can also help to improve heart and lung health. This includes walking, biking, and swimming about three times a week for a minimum of 20-minute intervals.
This is perhaps the most valuable form of exercise a Parkinson's patient can do since it requires them to work their muscles and joints by moving their limbs in a full range. This is especially beneficial for patients that have lost some mobility over time.
Caregivers often coordinate with their patients' physicians and physical therapists (if applicable) to come up with workable exercise routines that are appropriate for their patients' needs. Various flexibility exercises can help maximize the patient's strength and mobility and even aide in achieving other physical goals.
Endurance exercise basically includes any type of cardio such as walking, bike riding, jogging, swimming, or climbing steps. These activities are designed to increase the heart rate to appropriate levels based on the patient's level of fitness. It's important to do them in a controlled environment to avoid injury and over-stimulating your heart to the point of exhaustion.
Yoga and Tai Chi are exercise routines that can help improve balance, reduce the risk of falling, and alleviate muscle pain and soreness. These are controlled and soothing slow movements that help people of all ages lead a more physically, emotionally, and mentally balanced lifestyle.
While technically considered a form of cardio or endurance exercise, dancing has a great deal of physical and emotional health benefits for people of all ages. It can boost mental capacity by forcing people to recall steps and follow routines while also releasing endorphins that make participants feel exuberant while performing the moves. Dances that require working in unison with a partner are especially helpful to a person's mental and physical health because they provide a challenging yet rewarding exercise that can be done with another person.
Being submerged in water while exercising is highly beneficial for people who suffer from limited mobility and are looking to improve their flexibility, range of motion, strength, and endurance. Simply moving around in the water can help improve and strengthen your mental and physical faculties as each of the movements must be premeditated and controlled. The buoyancy of the water has the ability to improve the quality of movement while also reducing the risk of falling and other types of injuries. Just make sure that all aquatic exercises are done in either a group setting or under the supervision of a certified life guard and caregiver.
Benefits of Exercise for Patients with Parkinson's Disease
Exercise has often been used as a way to treat patients with Parkinson's, even before the development of beneficial medications. In fact, research has found that patients and even animals who exercise regularly show improved balance and posture and greater ease in managing everyday activities. Here is a list of just some of the benefits that can be achieved through implementing a regular exercise routine for people suffering from Parkinson's disease:
Improved posture, motor skills, and reduced risk of injury such as losing balance and falling

Makes physical therapy and other treatment methods far more effective and worthwhile

Enhances the capacity of the heart and lungs to function normally

Reduces effects of gait abnormality and helps patients walk in straight lines without risk of losing balance

Increases strength and endurance

Enhances normal cognitive functions, memory, objective perception, and the ability to make sound judgment calls

Helps patient establish a far better quality of life than they otherwise would've had
Does Someone You Know Suffer from Parkinson's Disease?
Home Care Assistance - Toronto/York Region provides comprehensive Parkinson's home care throughout the GTA, including:
Toronto

Waterloo

Guelph

Newmarket

Barrie

Brampton/Caledon/Dufferin

Mississauga

Oakville

Burlington

Etobicoke

York Region
Whether you or your loved one require 24-hour all-inclusive care or simply someone to check in on you them a few hours a day, we provide a wealth of exemplary and unparalleled services based on the demands of each individual situation. For a person with Parkinson's, an in-home caregiver can make all the difference by helping with day-to-day chores, personal errands, and overall health. If you're looking for Parkinson's-centric home care in Toronto and the GTA, contact us today!